Crash Course: Life Science Research Grants for Small Businesses
JLABS @ TMC , John P. McGovern Campus , Houston , TX 77021
October 11, 2016 from 13:30 PM to 15:00 PM (CST)
$10 - $35
---

The U.S. government provides hundreds of millions of dollars a year to advance small business research, development, and commercialization. Much of this non-dilutive funding comes from research grants for which only small businesses are eligible. If your small business performs research and development, it is vital to understand what grants are available and what it takes to obtain this non-dilutive funding. This introductory seminar aims to familiarize life science entrepreneurs with the variety of grants available for research and development and the necessary steps to obtain this attractive form of funding. The seminar will focus on the National Institutes of Health (NIH) small business grants (SBIR/STTRs) but will also identify additional grants that small businesses are eligible for. Other topics to be covered include: federal registration requirements, budget preparation tips, and grant-writing advice specific to small business grants.


Speakers:
Jacob Setterbo | Director of Grants, HIREtech read bio»
Amanda Chadee | Grants Specialist, HIREtech read bio»


Agenda:
11:30 AM | Registration Opens, Lunch*, and Networking
12:00 PM | Presentation
12:45 PM | Q&A
1:00 PM | Program Close

*Light food & beverage provided


Fees:
There is no cost to attend this workshop, but pre-registration is required.


Speakers' Biographies:

Jacob Setterbo, Ph.D. | Director of Grants, HIREtech
Dr. Jacob Setterbo is Director of Grants at HIREtech, where he helps life science companies obtain non-dilutive funding. Jacob focuses on small business grants (SBIR/STTRs) from the National Institutes of Health (NIH). He has provided consultation and technical writing for various therapeutic areas across the spectrum of NIH's interests, including pharmaceuticals, medical devices, digital health, and health care delivery. Jacob assists with experimental design and commercialization components of each project. Jacob regularly vets early-stage companies with respect to innovation and commercial potential to determine their applicability for grants. Jacob also assists with R&D Tax Credits at HIREtech. Jacob regularly provides guidance to startups as an advisor for the Texas Medical Center Accelerator (TMCx) in Houston. Jacob also served as a reviewer for the Texas Emerging Technology Fund and as a due diligence team member for the Houston Angel Network. Jacob received his Ph.D. in Biomedical Engineering from University of California, Davis and his B.S. in Civil Engineering from The University of Texas at Austin.
Connect with Jacob:  


Amanda Chadee, Ph.D. | Grants Specialist, HIREtech
Dr. Amanda Chadee is a Grants Specialist at HIREtech, where she specializes in obtaining early-stage capital for small companies seeking to commercialize innovative biomedical technologies. Dr. Chadee conducts the full range of activities required to prepare, manage, and submit grant proposals to the Small Business Innovation Research (SBIR) and Small Business Technology Transfer (STTR) programs. Dr. Chadee has prepared grants for various agencies, including the National Institutes of Health (NIH), National Science Foundation (NSF), and U.S. Department of Agriculture (USDA). She has consulted with clients in areas of digital health, health care delivery, medical devices, and biological technologies. Dr. Chadee also investigates funding sources, maintains funding opportunity databases, solicits agency feedback from program directors, and matches projects to Phase I and Phase II funding opportunities. Dr. Chadee received her Ph.D. in Molecular Biology from The University of Texas at Austin and her B.S. in Biochemistry from Claflin University in South Carolina.
Connect with Amanda:  




Location:
JLABS @ TMC
John P. McGovern Campus
2450 Holcombe Blvd, Suite J
Houston, TX 77021


Parking Information:
Please park in the self parking areas of the McGovern Campus. Grab a Token at the gate and bring it to the event space. We encourage carpooling and using the TMC shuttles.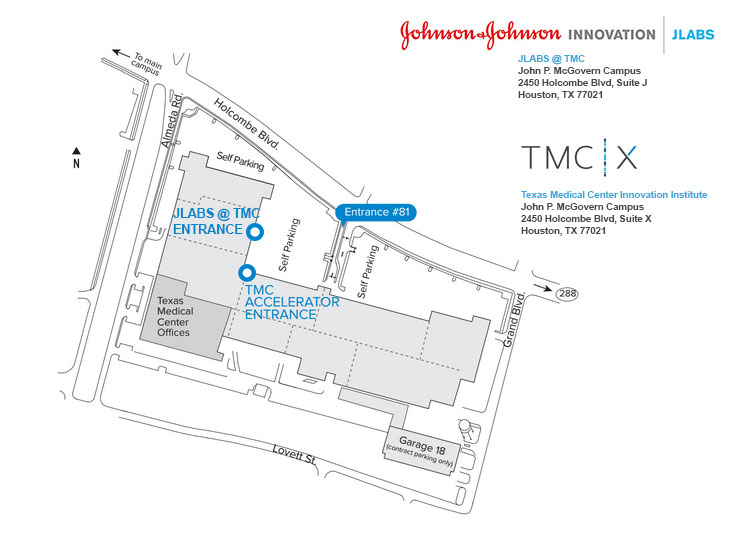 ---
JLABS @ TMC
Johnson & Johnson Innovation, JLABS (JLABS) is a global network of open innovation ecosystems, enabling and empowering innovators to create and accelerate the delivery of life-saving, life-enhancing health and wellness solutions to patients around the world. JLABS achieves this by providing the optimal environment for emerging companies to catalyze growth and optimize their research and development by opening them to vital industry connections, delivering entrepreneurial programs and providing a capital-efficient, flexible platform where they can transform the scientific discoveries of today into the breakthrough healthcare solutions of tomorrow. At JLABS we value great ideas and are passionate about removing obstacles to success to help innovators unleash the potential of their early scientific discoveries. JLABS is a no-strings-attached model, which means entrepreneurs are free to develop their science while holding on to their intellectual property. JLABS is open to entrepreneurs across a broad healthcare spectrum including pharmaceutical, medical device, consumer and digital health sectors. The JLABS flagship opened in 2012 in San Diego at Janssen's West Coast Research Center, and since then has grown to eight locations including the Bay Area, Boston & Lowell, MA, Houston, Toronto and a ninth location, New York City, launching in 2018. For more information please visit jlabs.jnjinnovation.com.
Event contact
---