The Doctor Will "Tweet" You Now
JLABS @ TMC , 2450 Holcombe Blvd. , Houston , TX 77021
September 12, 2017 from 13:00 PM to 15:30 PM (CST)
$10 - $35
---
Need to reach a broader range of patient clientele? No matter the profession, an active social media presence is becoming more and more crucial to healthy business growth. For this event, the founders of MDigitalLife, an end-to-end solution for understanding, engaging and activating the online health ecosystem, will discuss how users can track & leverage digital trends for the healthcare audiences they care about. In this informative session, you will learn how to optimize and target your audience on social to improve marketing communications, clinical trial recruitment, risk and reputation management and investor relations. 

Speakers:
Steven Cutbirth | Operations Lead, MDigitalLife
Steven Cutbirth leads operations & business development for MDigitalLife, W2O Group's end-to-end solution for Understanding, Engaging and Activating the online health ecosystem. Steven specializes in working with clients to realize actionable insights from complex data sets, create insights based marketing & communications strategies, and act on those strategies through influencer outreach and engagement.
Through his work with the MDigitalLife team, Steven works with dozens of the largest and most successful healthcare companies in the world, including hospital systems, health insurers, pharma/biotech manufacturers, medical device companies, health IT companies, and consumer health companies. His ultimate goal is to help clients improve healthcare for all by understanding how to utilize data insights from the health ecosystem.
Cutbirth'sclient work includes Assurex (Myriad Genetics), Invitae, Helix, Surescripts, Medtronic, CVS Health, Bayer, Galderma, Kaiser Permanente, Roche, Sanofi Pasteur, Actelion, Duke University Health and MD Anderson among others.
Meredith Owen | Senior Analytics Director, W2O
Meredith Owen is a Senior Analytics Director at W20 Group, responsible for leading insights and measurement for healthcare clients. Her cross-functional role requires that she has the technical skills to work alongside data sciences teams while also understanding how to execute effective digital marketing and communications strategy.
Using tools like MDigitalLife, Meredith specializes in cultivating data-driven insights to drive competitive edge for clients. Her day to day work includes things like influencer analysis, social listening, campaign measurement and issues monitoring – all grounded in audience-based, agile analytics.
Meredith's client work includes Takeda Oncology, Amgen, Sanofi Diabetes, UCB, Pfizer, Regeneron, Genentech, Merck, Neodyne, OvaScience, P&G and Abbvie, among others.

Agenda:
 11:00 AM | Registration Opens  
 11:15 PM | Networking Lunch
 12:00 PM | Presentation 
 1:00 PM | Q&A 
 1:30 PM | Program Close
 

Who should attend:
This workshop is ideal for inventors in academic centers and hospitals, and early stage healthcare start-ups in the pharma, medical device, consumer health and digital innovation areas.

Fees:
FREE | General Public
Location:
JLABS @ TMC
2450 Holcombe Blvd. Suite J
Houston, Texas 77021

Parking Information:
Please park in the self parking areas of the McGovern Campus. Grab a Token at the gate and bring it to the event space. We encourage carpooling and using the TMC shuttles.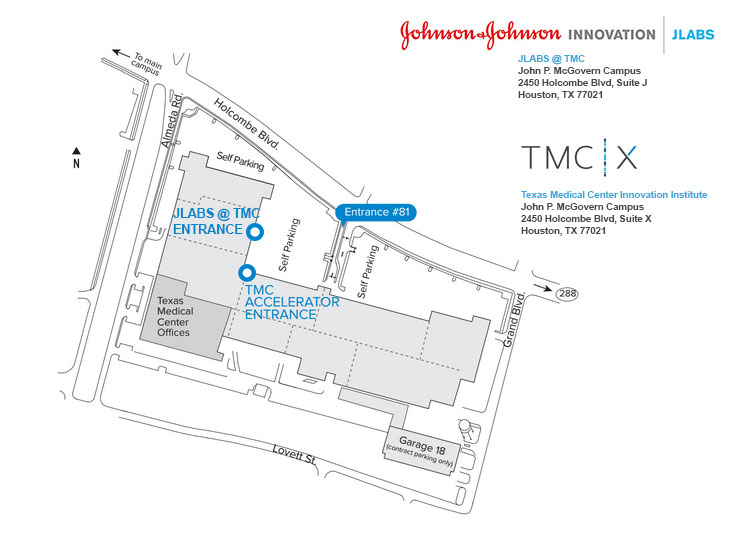 ---
JLABS @ TMC
Johnson & Johnson Innovation, JLABS (JLABS) is a global network of open innovation ecosystems, enabling and empowering innovators to create and accelerate the delivery of life-saving, life-enhancing health and wellness solutions to patients around the world. JLABS achieves this by providing the optimal environment for emerging companies to catalyze growth and optimize their research and development by opening them to vital industry connections, delivering entrepreneurial programs and providing a capital-efficient, flexible platform where they can transform the scientific discoveries of today into the breakthrough healthcare solutions of tomorrow. At JLABS we value great ideas and are passionate about removing obstacles to success to help innovators unleash the potential of their early scientific discoveries. JLABS is a no-strings-attached model, which means entrepreneurs are free to develop their science while holding on to their intellectual property. JLABS is open to entrepreneurs across a broad healthcare spectrum including pharmaceutical, medical device, consumer and digital health sectors. The JLABS flagship opened in 2012 in San Diego at Janssen's West Coast Research Center, and since then has grown to eight locations including the Bay Area, Boston & Lowell, MA, Houston, Toronto and a ninth location, New York City, launching in 2018. For more information please visit jlabs.jnjinnovation.com.
Event contact
---