Innovation Panel: How BIG Pharma is Shaking Things Up
Add this event to your calendar:
13/09/2012 17:30
14/09/2012 17:00
America/Los_Angeles
Innovation Panel: How BIG Pharma is Shaking Things Up
Janssen Research & Development LLC , 3210 Merryfield Row , San Diego , CA 92121
JLABS San Diego
false
DD/MM/YYYY
Innovation Panel: How BIG Pharma is Shaking Things Up
Janssen Research & Development LLC , 3210 Merryfield Row , San Diego , CA 92121
September 13, 2012 from 17:30 PM to 17:00 PM (PDT)
$10 - $35
---
Agenda:

3:00pm Registration & Networking
3:30pm Introductions
3:35pm Panel Presentation
5:00pm Networking Reception & Tours of Janssen Labs (must sign-up for tour during registration process)
Program Overview:
Prescience International invites you for an eye-opening look into the challenges facing the pharmaceutical industry today and the innovative models its leaders have embraced in order to spur productivity. A cutting-edge panel featuring five of the nation's biggest players in the pharma industry, discussion will include new initiatives such as grants, venture arms, incubators, funding early stage research, interfacing with VCs and much more. Join Prescience for what will surely be a thought-provoking discussion on the drivers of innovation in the pharma industry and the models that are working, those that aren't and why.
Panelists:
Christopher Haskell | Head, U.S. Science Hub, Bayer HealthCare Pharmaceuticals
Diego Miralles | Head, Janssen Research & Development West Coast Research Center and Janssen Healthcare Innovation
Neela Patel | Director, Global External Research, Abbott Laboratories
Bhasker Shetty | Vice President, Pfizer Worldwide R&D and Site Director, Pfizer La Jolla Laboratories
Mark Edwards | Managing Director, Bioscience Advisors (moderator)
Speaker Bios:
Christopher Haskell | Head, U.S. Science Hub, Bayer HealthCare Pharmaceuticals


Dr. Christopher Haskell leads Bayer's U.S. Science Hub, based in the company's U.S. Innovation Center located at Mission Bay, San Francisco. Haskell and his group support Bayer's Global Drug Discovery through developing and managing partnerships with US academic research institutions and emerging life science firms, including the master agreement signed with UCSF in 2010. Haskell is also responsible for the development of The CoLaborator, a biotech incubator space opening in the fall of 2012 in San Francisco.

After his graduate work at the University of California, Davis and a postdoctoral fellowship at The Gladstone Institute in San Francisco, Haskell joined the Immunology group at Berlex Biosciences. Since joining Bayer in 2007, Haskell has served in various scientific leadership roles, including the Acting Head of Applied Research, the unit responsible for hemostasis research and drug development. In late 2009, Haskell was named head of Bayer's newly formed Science Hub.

Diego Miralles | Head, Janssen Research & Development West Coast Research Center and Janssen Healthcare Innovation


Dr. Diego Miralles is the management sponsor of Janssen Labs as part of his role as site head of the Janssen West Coast Research Center, part of Janssen Research & Development LLC. He oversees the business and operational management of Janssen Labs including the initial concept development, site construction, business model architecting, and company selection criteria.

Miralles is also Head of Janssen Healthcare Innovation (JHI), a newly created team within Janssen R&D. JHI is actively testing and launching more than a dozen new business models. The team is focused on enhancing the value of our existing pharmaceutical business by identifying and integrating emerging technologies and novel partnerships in the following areas – clinical trials, adherence and genomics. The team is also identifying business opportunities in newly created markets such as innovative financing of healthcare, optimizing healthcare delivery and health maintenance.

Miralles currently serves as an adjunct full professor in the Pharmacology department at the University of California, San Diego and is on the Board of Rady Children's Hospital. His background includes over 13 years in the healthcare industry and 12 years in the hospital and academic worlds. Prior to heading the West Coast Research Center he was involved in the development of several drugs that made it to the market, including FTC, T-20, Prezista, Intellence and Edurant. He has extensive experience in clinical research, mostly in the HIV/AIDS space, including work on antiviral drug development at Belgium's Tibotec BVBA, Trimeris, Inc, and Triangle Pharmaceuticals.

Miralles was previously on the faculty at Duke University, Durham, NC, where he had a clinical HIV practice after serving as attending in charge at The AIDS Clinical Trial Unit, Beth Israel Medical Center, NY. He completed his fellowship in Infectious Diseases at Cornell University-New York Hospital after a residency in Internal Medicine at the Mayo Clinic in Rochester, MN. He graduated from the University Of Buenos Aires School Of Medicine in 1986.
Neela Patel | Director, Global External Research, Abbott Laboratories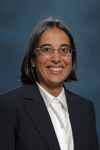 Dr. Neela Patel is Director, External Research for Abbott Laboratories with responsibility for identification and evaluation of discovery-stage collaboration and licensing opportunities in the Western US. In addition, Patel serves as the therapy area liaison for oncology, partnering with senior management to create the overall strategy for the pipeline, conducting pro-active searches for assets and collaborators, and assessing all incoming opportunities worldwide for technical robustness and strategic fit.

Patel has over nineteen years pharma/biotech industry experience with small molecules and biologics from early stage discovery through IND filing, with a focus on oncology and ophthalmology. Most recently, she led Preclinical and Translational Medicine at Poniard Pharmaceuticals where she established the biology department and jointly created a preclinical product pipeline with the head of chemistry. Prior to Poniard, Patel served in drug discovery management positions of increasing responsibility at Genentech, SUGEN/Pharmacia, and Roche Bioscience. She was also a key member of several start-up company teams to establish the overall business and scientific strategies and to seek funding, including securing a total of $37M in Series A for Optherion, Inc.

Patel graduated Phi Beta Kappa from Stanford University with a B.S. in Biology and B.A. in Humanities (with Honors), and holds a Ph.D. in Molecular Biology from UCLA. She completed her post-doctoral training at DNAX/Schering Plough.

Bhasker Shetty | Vice President, Pfizer Worldwide R&D and Site Director, Pfizer La Jolla Laboratories


Dr. Bhasker Shetty is Vice President, Pfizer Worldwide R&D and Site Director of Pfizer La Jolla Laboratories, a 1-million-square-foot biopharmaceutical research and development campus in San Diego, California. The approximately 1,100 scientists and support staff at the site focus on three areas: discovering and developing new medicines to treat many forms of cancer; progressing compounds in the clinic for diseases of the eye (e.g. glaucoma and macular degeneration); and, discovering novel prophylactic and therapeutic vaccines for the prevention and treatment of significant human maladies (in the areas of cancer and central nervous system diseases). Shetty simultaneously serves as the Head of Pfizer La Jolla's Pharmacokinetics, Dynamics and Metabolism group.

Shetty received his Bachelor of Pharmacy degree from the College of Pharmaceutical Sciences, Manipal, India, and his Ph.D. in pharmaceutical sciences from the University of Missouri, Kansas City. After completing his postdoctoral training in pharmaceutical chemistry at the University of Kansas, he joined the fledgling biotech company, Agouron Pharmaceuticals Inc., in 1990. He has remained a key leader at the site through two acquisitions – the acquisition of Agouron by Warner Lambert and, subsequently, the acquisition of Warner Lambert by Pfizer Inc. During his industry career of more than 20 years, Shetty has been successfully involved in the discovery and development of treatment for renal cell carcinoma and gastrointestinal stromal tumors (Sutent®); wet age-related macular degeneration (Macugen®); and HIV (Viracept®). Shetty continues to oversee the discovery and development of a number of potential new medicines in Pfizer's pipeline, including those for the treatment of cancer and eye diseases.

Shetty is active in San Diego's scientific community. He serves on the Board of Directors of BIOCOM, CONNECT and Project Concern International, as well as on the Advisory Committee of the Institute of Engineering in Medicine at UC San Diego. He was the Founding Member and President of the Southern California Pharmaceutical Discussion Group, an organization focused on fostering education in and knowledge of the pharmaceutical sciences, its industry and regulations. He continues to encourage the next generation of scientists as an active collaborator in the development of scientific forums at UC San Diego's Skaggs School of Pharmacy & Pharmaceutical Sciences.
Mark Edwards | Managing Director, Bioscience Advisors Inc.


Mark G. Edwards is Managing Director of Bioscience Advisors Inc., a biopharmaceutical consulting firm he founded in 2011. Previously, he was Managing Director and a Principal of Deloitte Recap LLC, a wholly-owned subsidiary of Deloitte Touche Tohmatsu. Until its sale to Deloitte in 2008, Edwards was the Managing Director and founder of Recombinant Capital, Inc. (Recap), a consulting and database firm based in Walnut Creek, California. Prior to founding Recap in 1988, Edwards was Manager of Business Development at Chiron Corporation. He is on the board of directors of AcelRx and has previously served on the boards of Allos Therapeutics, CombiMatrix and Ontogen. Edwards received his B.A. and M.B.A. degrees from Stanford University.
---
JLABS San Diego
Johnson & Johnson Innovation, JLABS (JLABS) is a global network of open innovation ecosystems, enabling and empowering innovators to create and accelerate the delivery of life-saving, life-enhancing health and wellness solutions to patients around the world. JLABS achieves this by providing the optimal environment for emerging companies to catalyze growth and optimize their research and development by opening them to vital industry connections, delivering entrepreneurial programs and providing a capital-efficient, flexible platform where they can transform the scientific discoveries of today into the breakthrough healthcare solutions of tomorrow. At JLABS we value great ideas and are passionate about removing obstacles to success to help innovators unleash the potential of their early scientific discoveries. JLABS is a no-strings-attached model, which means entrepreneurs are free to develop their science while holding on to their intellectual property. JLABS is open to entrepreneurs across a broad healthcare spectrum including pharmaceutical, medical device, consumer and healthtech sectors. The JLABS flagship opened in 2012 in San Diego at Janssen's West Coast Research Center, and since then has grown to ten global locations including the Bay Area, Boston & Lowell, MA, Houston, Toronto, Beerse (Belgium), with New York City, opening in June 2018, and Shanghai in 2019. For more information please visit www.jlabs.jnjinnovation.com or follow @JLABS.
Event contact
---