Inspiring Leaders: Dr. Bernard Harris
JLABS @ TMC , John P. McGovern Campus , Houston , TX 77021
February 09, 2017 from 12:00 PM to 14:00 PM (CST)
$10 - $35
---

Growing up, most kids want to be an astronaut, a scientist, or a doctor, but Dr. Bernard Harris decided to be all three. A veteran astronaut for over eighteen years, Dr. Harris has logged more than 438 hours and traveled over 7.2 million miles in space. On his second flight, Dr. Harris conducted the first telemedicine conference with the Mayo Clinic and became the "First African American to walk in Space". Continuing his career as a NASA scientist, Dr. Harris conducted research in musculoskeletal physiology and disuse osteoporosis. As Head of the Exercise Countermeasure Project, he conducted clinical investigations of space adaptation and developed in-flight medical devices to extend Astronaut stays in space. Following his career in astronautics, Harris became an entrepreneur, working first as vice president of Spacehab, Inc. in 1996, where he worked on the commercialization of space exploration. After earning his M.B.A. degree from the University of Houston Clear Lake, Harris became executive director of Versalius Ventures in 2001.

Harris has received much recognition for his work as astronaut, entrepreneur, and as a community developer. In addition to becoming a fellow of the American College of Physicians, he is also the winner of The Challenger Award from the Ronald E. McNair Foundation, and recipient of the prestigious Horatio Alger Award. The Dr. Bernard A. Harris Middle School was named in his honor in 2006. That same year Harris established the ExxonMobil Bernard Harris Summer Science Camp and the Dream Tour, two STEM programs to encourage minority students to pursue an interest in the sciences.

Join us for a fireside chat with Dr. Bernard Harris and experience the lessons he's learned.

The Inspiring Leaders series provides unrivaled access to been there done that industry leaders in an intimate and unique setting. The highly sought after, featured speakers share their forecasts and vision for the future as well as lessons learned from the trenches. The series is designed to be an interactive and highly educational experience for all who attend.


Speakers:
Dr. Bernard Harris | CEO and Managing Partner, Vesalius Ventures read bio»


Agenda:
11:00 AM | Registration Opens, Lunch, and Networking
12:00 PM | Presentation, Interview and Q&A
1:00 PM | Program Close


Fees:
$35 | General Public
$20 | Academic/Student Rate
$45 | At the door


Location:
JLABS @ TMC
John P. McGovern Campus
2450 Holcombe Blvd, Suite J
Houston, TX 77021


Parking Information:
Please park in the self parking areas of the McGovern Campus. Grab a Token at the gate and bring it to the event space. We encourage carpooling and using the TMC shuttles.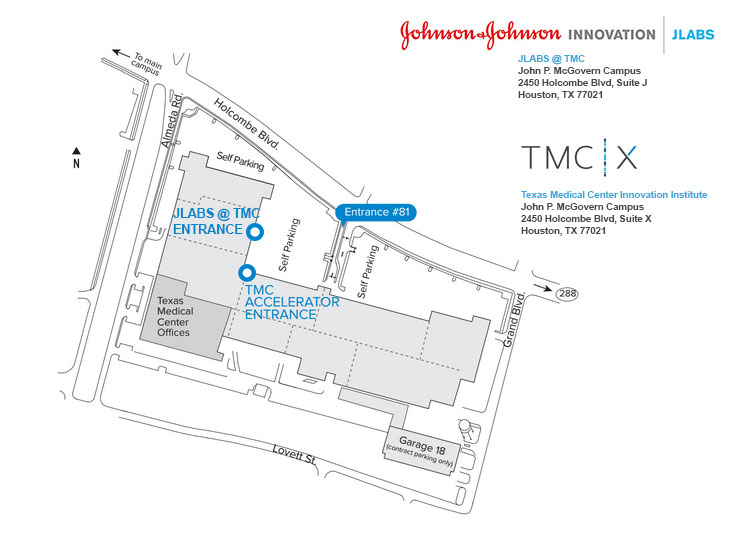 Speakers Biography:

Bernard Harris, JR., MD, MBA, FACP | CEO and Managing Partner, Vesalius Ventures
Dr. Harris is currently Chief Executive Officer and Managing Partner of Vesalius Ventures, Inc., a venture capital firm that support and invest in early to mid-stage Healthcare technologies and companies. He has had over twenty years of business experience, in various leadership roles as CEO, president, SVP and CMO of some of the leading companies and organizations in the nation. He is a member of the Board of Directors for U.S. Physical Therapy (NASDAQ: USPH), Sterling Bancshares (NASDAQ: SBIB), E-Cardio, RMD Networks, Monebo Technologies, American Institute Minimally Invasive Surgery (AIMIS) and the Space Agency. In addition, Dr. Harris serves as a Director of a number of investment funds, including The Endowment Fund, Salient Absolute Return Fund, Salient MLP & Energy Infrastructure Fund, Salient Midstream & MLP Fund and Salient MF Trust, with over $18 billion in assets under management (AUM); and Board of Trustees of Babson Capital Global Short Duration High Yield Fund and Babson Capital Funds Trust with over $600m AUM.

Dr. Harris earned a Bachelor of Science in Biology from the University of Houston, a Master of Medical Science from the University of Texas Medical Branch at Galveston, a Master of Business Administration (MBA) from the University of Houston and a Doctorate of Medicine from Texas Tech University School of Medicine. He completed a Residency in Internal Medicine at the Mayo Clinic, a National Research Council Fellowship in Endocrinology at the NASA Ames Research Center and trained as a Flight Surgeon at the Aerospace School of Medicine, Brooks Air Force Base. He is also a licensed private pilot and certified scuba diver.

---
JLABS @ TMC
Johnson & Johnson Innovation, JLABS (JLABS) is a global network of open innovation ecosystems, enabling and empowering innovators to create and accelerate the delivery of life-saving, life-enhancing health and wellness solutions to patients around the world. JLABS achieves this by providing the optimal environment for emerging companies to catalyze growth and optimize their research and development by opening them to vital industry connections, delivering entrepreneurial programs and providing a capital-efficient, flexible platform where they can transform the scientific discoveries of today into the breakthrough healthcare solutions of tomorrow. At JLABS we value great ideas and are passionate about removing obstacles to success to help innovators unleash the potential of their early scientific discoveries. JLABS is a no-strings-attached model, which means entrepreneurs are free to develop their science while holding on to their intellectual property. JLABS is open to entrepreneurs across a broad healthcare spectrum including pharmaceutical, medical device, consumer and digital health sectors. The JLABS flagship opened in 2012 in San Diego at Janssen's West Coast Research Center, and since then has grown to eight locations including the Bay Area, Boston & Lowell, MA, Houston, Toronto and a ninth location, New York City, launching in 2018. For more information please visit jlabs.jnjinnovation.com.
Event contact
---