It Must Be
JLABS @ TMC , John P. McGovern Campus , Houston , TX 77021
September 15, 2016 from 13:00 PM to 15:30 PM (CST)
$10 - $35
---

Have you ever wondered why you didn't get the investment? The potential funders loved the idea. They loved the team. They thought the market would be receptive... But, they wanted to think about it a little longer.

In this enlightening session with world renowned Communications & Leadership Expert, John Bates, you will learn the secrets behind pitches that succeed. You will leave ready to apply the secrets of to all of your pitches. From internal presentations to fundraising and client pitches you will learn not only what works, but why it works.

John has trained teams to take pitches from disaster to success that have raised hundreds of millions of dollars. In preparing John enhanced his own extensive experience by interviewing many top funders in the Healthcare ecosystem. From leading grant reviewers and high stakes venture fund managers to startup founders, John has gathered and distilled the principles, practices and gems no one ever discusses.

Even though you have a great idea, a great product, and a great team, you need to be able to communicate that well or it can languish while an inferior idea, product and team rise to prominence. Make sure your pitch skills are worthy of your idea, product and team. Make sure you are skilled in the art of .

The "How to... Workshop" series is dedicated to giving you the keys to a successful business, from creation to exit. As with all our events, the "How to... Workshop" is interactive and informal so bring your questions with you!

Presenter:
John Bates | Chief Executive Officer & Executive Whisperer, Executive Speaking Success & Business Coaching read bio»

Agenda:
11:00 AM | Registration, Lunch, and Networking
11:30 AM | Presentation
12:15 PM | Discussion and Q&A
12:30 PM | Audience Pitches and Critique
1:30 PM | Program Close

Who Should Attend:
Life science industry executives, founders, CEOs, and marketing managers of start-ups and other private companies.

Fees:
$35 | General Public
$20 | Student/Academic
$45 | At the door

Presenter's Biography:

John Bates | Chief Executive Officer & Executive Whisperer, Executive Speaking Success & Business Coaching
John Bates has spoken, hosted and coached for over 22 different worldwide TED and TEDx events. His group trainings are world famous and executives from companies like Johnson & Johnson Innovation Labs, Accenture, Boeing, NASA, IBM, and more, recommend him to their colleagues as the best communications and leadership trainer working today.
Long ago John fell in love with the Internet the moment it dawned on him what it would do for communication. Since then he has worked with early stage companies as a Founder or early employee, has been instrumental in raising hundreds of millions of dollars in Venture Capital and has always earned the title Chief Evangelist. He Co-Founded BIGWORDS.com, a dotcom darling which ended up going bust in the dotcom bomb of 2000, and he was the first employee and is a part owner of current Internet powerhouse Goldstar.com.
John is a co-author of World Class Speaking in Action, an Amazon best-seller, and loves making a difference for those who make a difference.
Connect with John:  




About Executive Speaking Success:
Based in Los Angeles, California, Executive Speaking Success (ESS) is a global leader in communication and leadership training. The firm's techniques are grounded in evolutionary biology and human neurophysiology, revealing both what works in communication as well as why it works.

The company's training style is dedicated to bringing out greatness in people and companies so they can make a real difference in the world. ESS delivers its programs all over the world working with C level executives, business development and sales teams, keynote speakers, TED and TEDx speakers, as well as anyone who is committed to being successful in their leadership and communications.

Founded in 2012, the company is led by John K. Bates, an internationally regarded leadership communications trainer and keynote speaker, as well as a savvy entrepreneur. Bates has been actively coaching since 2005, working with CEOs and the executive teams of Johnson & Johnson Innovation Labs, the VW Electronics Lab, Janssen Labs, DudaMobile, Motorola, Goldstar, Oculus International, LAZ Parking, BigFra.me, Stone Brewing Co., and many others on their leadership, presentation, media and business skills. Prior to his training career, he has been involved in helping to found and start up Goldstar, BigWords.com (which raised over $80 million) and VirtualVegas the first online "destination site". He has raised hundreds of millions of dollars in venture capital funds, successfully opened resistant markets for new products and has run the customer service department for a multi-million dollar company. Bates is also a contributing author to the book World Class Speaking in Action: 50 Certified World Class Speaking Coaches Show You How to Present, Persuade, and Profit which became a multiple Amazon best seller.

ESS programs entail a combination of large and small group training and one-on-one training both online and in person. Programs can be customized based on needs and budget.

Location:
JLABS @ TMC
John P. McGovern Campus
2450 Holcombe Blvd, Suite J
Houston, TX 77021

Parking Information:
Please park in the self parking areas of the McGovern Campus. Grab a Token at the gate and bring it to the event space. We encourage carpooling and using the TMC shuttles.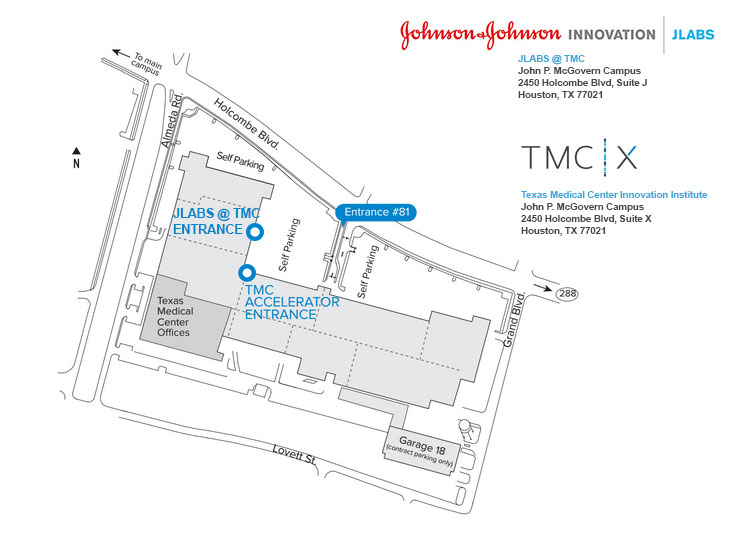 ---
JLABS @ TMC
Johnson & Johnson Innovation, JLABS (JLABS) is a global network of open innovation ecosystems, enabling and empowering innovators to create and accelerate the delivery of life-saving, life-enhancing health and wellness solutions to patients around the world. JLABS achieves this by providing the optimal environment for emerging companies to catalyze growth and optimize their research and development by opening them to vital industry connections, delivering entrepreneurial programs and providing a capital-efficient, flexible platform where they can transform the scientific discoveries of today into the breakthrough healthcare solutions of tomorrow. At JLABS we value great ideas and are passionate about removing obstacles to success to help innovators unleash the potential of their early scientific discoveries. JLABS is a no-strings-attached model, which means entrepreneurs are free to develop their science while holding on to their intellectual property. JLABS is open to entrepreneurs across a broad healthcare spectrum including pharmaceutical, medical device, consumer and digital health sectors. The JLABS flagship opened in 2012 in San Diego at Janssen's West Coast Research Center, and since then has grown to eight locations including the Bay Area, Boston & Lowell, MA, Houston, Toronto and a ninth location, New York City, launching in 2018. For more information please visit jlabs.jnjinnovation.com.
Event contact
---