Meet with... National Cancer Institute
Texas Medical Center , John P. McGovern Campus , Houston , TX 77021
May 19, 2015 from 12:00 PM to 14:30 PM (CDT)
$10 - $35
---
Program Overview:
NCI: SBIR Opportunities for Early-Stage and Venture-Backed Companies

Program Director Dr. Xing-Jian Lou will present and discuss the SBIR and STTR programs that fund and support small biomedical technology companies.

During this session, she will provide an update on funding opportunities available to small businesses as well as tips on strengthening your application. The SBIR program helps fill the gap in the availability of early stage funding created when investors and strategic partners move towards clinical-stage investments. SBIR funds serve as a key bridge between initial angel funding and more significant angel capital, venture capital, or strategic partnerships.

Additionally, the presentation will provide valuable information on NCI's other initiatives including the NCI SBIR Bridge Award, the NCI SBIR Investor Forum, and I-Corps(tm) at NIH. Get all of your questions answered during the Q&A session following the presentation and apply to meet one-on-one with Dr. Lou.

Agenda:
10:00 AM | Registration & Networking session
10:30 AM | Presentation & Q&A
11:50 AM | Lunch
12:30-5:00 PM | One-on-one Meetings*

*Companies must apply for a one-on-one meeting ahead of time and be approved. The application period ends on April 19th.

National Cancer Institute Participating Representative:
Dr. Xing-Jian Lou | Program Director, Small Business Innovation Research Development Center, National Cancer Institute read bio»

About the National Cancer Institute:
The National Cancer Institute (NCI) is part of the National Institutes of Health (NIH), which is one of 11 agencies that compose the Department of Health and Human Services (HHS). The NCI, established under the National Cancer Institute Act of 1937, is the Federal Government's principal agency for cancer research and training. The National Cancer Act of 1971 broadened the scope and responsibilities of the NCI and created the National Cancer Program. Over the years, legislative amendments have maintained the NCI authorities and responsibilities and added new information dissemination mandates as well as a requirement to assess the incorporation of state-of-the-art cancer treatments into clinical practice. The National Cancer Institute coordinates the National Cancer Program, which conducts and supports research, training, health information dissemination, and other programs with respect to the cause, diagnosis, prevention, and treatment of cancer, rehabilitation from cancer, and the continuing care of cancer patients and the families of cancer patients.

Fees:
Presentation & Lunch
$25 | General Public
$35 | General Public - At the door
Includes presentation, Q&A, and lunch. All attendees must pay this fee, regardless of one-on-one meeting status. Registration to attend the presentation, Q&A, and lunch will remain open until May 18th (or full).

One-on-One Meeting
FREE | Application
FREE | Accepted Companies
Companies must apply for a one-on-one meeting ahead of time. The one-on-one application period ends on April 19th. Your application will be reviewed and you will be notified of acceptance by email. Acceptance of a one-on-one meeting is not guaranteed as all applications must be approved.

Location:
Texas Medical Center
John P. McGovern Campus
2450 Holcombe Blvd, Suite X
Houston, TX 77021

Parking Information:
Please park in the self parking areas of the McGovern Campus. Grab a Token at the gate and bring it to the event space. We encourage carpooling and using the TMC shuttles.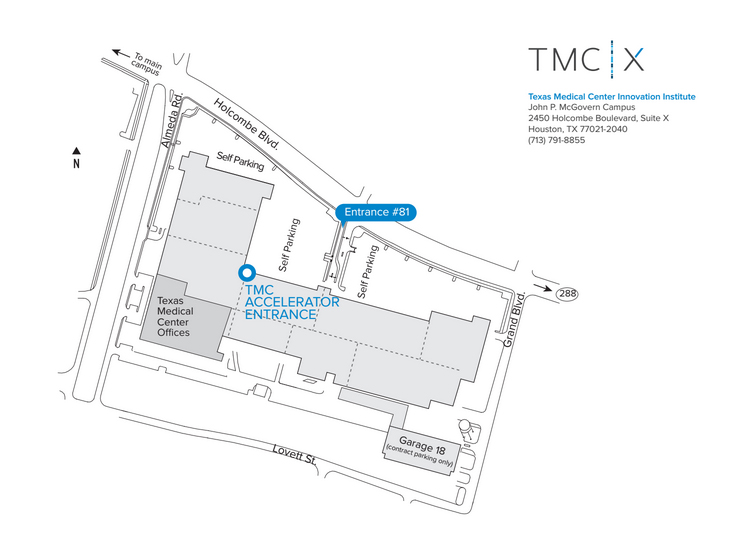 National Cancer Institute Participating Representative's Biography:

Dr. Xing-Jian Lou | Program Director, Small Business Innovation Research Development Center, National Cancer Institute
Dr. Xing-Jian Lou is a Program Director in the Small Business Innovation Research (SBIR) Development Center at the National Cancer Institute (NCI). In this role, she actively engages in identifying areas of interest for NCI to develop Contract Topics and Funding Opportunity Announcements. She also conducts outreach events to help recruit more focused, commercially-minded SBIR applicants, and coaches small businesses to develop stronger applications and obtain government funding for innovative research and development projects with high commercial potential. Dr. Lou manages funded projects, mentoring and guiding companies throughout the award period, and facilitating their interaction with potential third-party investors and strategic partners. Dr. Lou has over 15 years experience in research and product development in the area of biomarker-, assay-, technology- and knowledgebase- development for diagnosis and drug development. Prior to joining NCI she held a variety of scientific and management positions in pharmaceutical and biotech companies, including Johnson & Johnson, LumiCyte, Applied Biosystems (now part of Thermo Fisher Scientific corporation) and diaDexus. Dr. Lou received her PhD degree in Molecular & Cellular Pharmacology from the Miller Medical School of the University of Miami and completed her postdoctoral training at Stanford University.
Connect with Xing:


About the Meet with... Series:
The purpose of the Meet with Series events sponsored by JLABS is to help start-up entrepreneurs, as well as the academic community, connect with potential partners, such as big pharma or other investment corporations, through one-on-one meetings. It is also a chance for the featured corporation to outline their specific business development goals and clarify what types of products or research they are interested in and how best to approach them to get the partnering process started. Past participants include the Wellcome Trust, MedImmune Ventures, NCI, Mercury Fund, DARPA's Biological Technologies Office, Correlation Ventures, Breakout Labs, New Enterprise Associates, Thomas McNerney & Partners, NCATS, Poliwogg, and OrbiMed.
---
JLABS @ TMC
Johnson & Johnson Innovation, JLABS (JLABS) is a global network of open innovation ecosystems, enabling and empowering innovators to create and accelerate the delivery of life-saving, life-enhancing health and wellness solutions to patients around the world. JLABS achieves this by providing the optimal environment for emerging companies to catalyze growth and optimize their research and development by opening them to vital industry connections, delivering entrepreneurial programs and providing a capital-efficient, flexible platform where they can transform the scientific discoveries of today into the breakthrough healthcare solutions of tomorrow. At JLABS we value great ideas and are passionate about removing obstacles to success to help innovators unleash the potential of their early scientific discoveries. JLABS is a no-strings-attached model, which means entrepreneurs are free to develop their science while holding on to their intellectual property. JLABS is open to entrepreneurs across a broad healthcare spectrum including pharmaceutical, medical device, consumer and digital health sectors. The JLABS flagship opened in 2012 in San Diego at Janssen's West Coast Research Center, and since then has grown to eight locations including the Bay Area, Boston & Lowell, MA, Houston, Toronto and a ninth location, New York City, launching in 2018. For more information please visit jlabs.jnjinnovation.com.
Event contact
---