Meet with…Baird Capital
JLABS @ TMC , John P. McGovern Campus , Houston , TX 77021
May 11, 2017 from 12:30 PM to 19:00 PM (CST)
$10 - $35
---
Baird Capital invests alongside entrepreneurs and company founders who have a passion for their businesses. Since 1989, they have raised and managed more than $3.1 billion and invested in over 300 portfolio companies. They look for companies where they can deliver resources, relationships and expertise to accelerate growth. They provide more than financial capital – they are focused on helping companies build their businesses, proactively leveraging a network of resources to access management talent, source transactions and provide expertise. Baird Capital's US Venture fund invests in strategically targeted subsectors across the Technology & Services and Healthcare sectors. They make seed, Series A, B, and C investments in early and growth stage companies and are investing out of Baird Venture Partners Fund IV, which was closed in late 2014 with $185 million in commitments. Investment areas within healthcare includes:

Healthcare IT

Healthcare Services

Medical Devices
Diagnostics
Michael Liang, Partner on Baird Capital's Venture team, will be in attendance to give an overview presentation about the company's key areas of interest. Following the presentation, don't miss this opportunity to introduce yourself to Michael during the networking lunch. And finally, for those companies who apply online and are approved, one-on-one meetings with Baird Capital will provide an intimate forum to discuss your company. 

Agenda:
10:30am | Registration Opens and Networking
11:00am | Presentation and Q&A
11:45am | Networking Lunch
1:00-5:00pm | One-on-one Meetings*

*Companies must have applied for a one-on-one meeting ahead of time and be approved. The application period ends on April 28th. Pre-registration to attend the presentation, Q&A, and lunch will remain open until noon on May 10th (or sold out). 

Baird Capital Participating Representative:


Michael Liang, Ph.D. | Partner, Baird Capital
Michael Liang joined Baird Capital in 2006 and concentrates on Healthcare investments. Prior to joining Baird Capital, Mike was a venture investor with Advent Venture Partners and before that served in an operating role as a Director of R&D at Cortek, a spinal orthopedics company. Mike is currently a member of the board of directors of GenomeDx Biosciences, Insightra Medical, Veniti, Zurex Pharma, Integrated Diagnostics and Apervita, serving as chairman of the board for Insightra Medical and Veniti. He was previously a board member of Interlace Medical before its acquisition in 2011 and a board observer of TomoTherapy before its public offering. Mike is a member of the advisory board for the University of Illinois Chicago's Proof of Concept Fund, Northwestern University's Innovation and New Ventures Office, the Wisconsin Alumni Research Foundation (WARF) Accelerator program and Chicago MATTER. Mike also is a member of Rush University Medical Center's Associates Board. Mike received a BS from the University of California Berkeley and a PhD in biophysical chemistry from Stanford University and conducted a postdoctoral fellowship at Harvard University.
Connect with Michael:



Fees:
Presentation & Lunch
$25 | General Public
$35 | Onsite
Includes presentation, Q&A, and lunch. All attendees must pay this fee, regardless of one-on-one meeting status. Pre-registration to attend the presentation, Q&A, and lunch will remain open until noon on May 11th (or sold out).

One-on-One Meeting
FREE | Application
FREE | Accepted Companies
Companies must have applied for a one-on-one meeting ahead of time. The one-on-one application period ends on April 28th. Your application will be reviewed and you will be notified of acceptance by email. Acceptance of one-on-one meetings is not guaranteed as all applications must be approved.

About the Meet with... Series:
The purpose of the Meet with Series events sponsored by JLABS is to help start-up entrepreneurs, as well as the academic community, connect with potential partners, such as big pharma or other investment corporations, through one-on-one meetings. It is also a chance for the featured corporation to outline their specific business development goals and clarify what types of products or research they are interested in and how best to approach them to get the partnering process started. Past participants include the Wellcome Trust, Bill & Melinda Gates Foundation, MedImmune Ventures, NCI, Mercury Fund, DARPA's Biological Technologies Office, Correlation Ventures, Breakout Labs, New Enterprise Associates, Canaan Partners, Thomas McNerney & Partners, NCATS, NINDS, Johnson & Johnson Innovation, Poliwogg, California Institute for Regenerative Medicine, Astellas Venture Management, and OrbiMed.

Location:
JLABS @ TMC
John P. McGovern Campus
2450 Holcombe Blvd, Suite J
Houston, TX 77021

Parking Information:
Please park in the self parking areas of the McGovern Campus. Grab a Token at the gate and bring it to the event space. We encourage carpooling and using the TMC shuttles.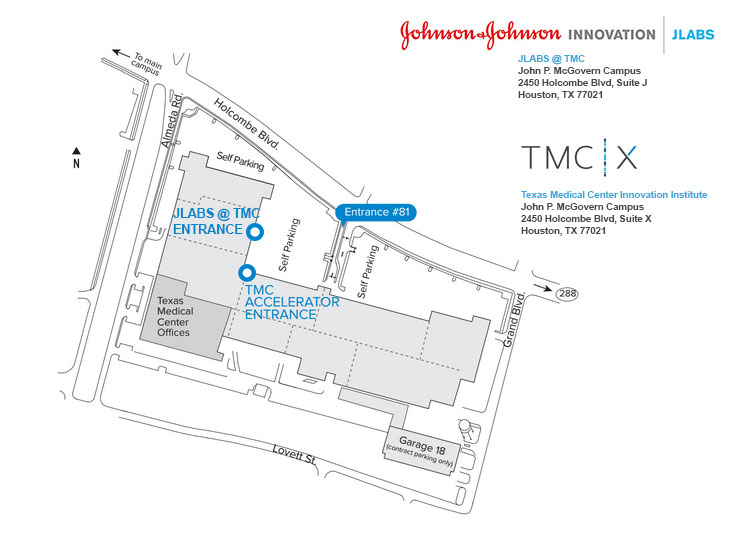 ---
JLABS @ TMC
Johnson & Johnson Innovation, JLABS (JLABS) is a global network of open innovation ecosystems, enabling and empowering innovators to create and accelerate the delivery of life-saving, life-enhancing health and wellness solutions to patients around the world. JLABS achieves this by providing the optimal environment for emerging companies to catalyze growth and optimize their research and development by opening them to vital industry connections, delivering entrepreneurial programs and providing a capital-efficient, flexible platform where they can transform the scientific discoveries of today into the breakthrough healthcare solutions of tomorrow. At JLABS we value great ideas and are passionate about removing obstacles to success to help innovators unleash the potential of their early scientific discoveries. JLABS is a no-strings-attached model, which means entrepreneurs are free to develop their science while holding on to their intellectual property. JLABS is open to entrepreneurs across a broad healthcare spectrum including pharmaceutical, medical device, consumer and digital health sectors. The JLABS flagship opened in 2012 in San Diego at Janssen's West Coast Research Center, and since then has grown to eight locations including the Bay Area, Boston & Lowell, MA, Houston, Toronto and a ninth location, New York City, launching in 2018. For more information please visit jlabs.jnjinnovation.com.
Event contact
---