Meet with…FundRx
JLABS @ TMC , John P. McGovern Campus , Houston , TX 77021
November 14, 2017 from 11:30 AM to 14:00 PM (CST)
$10 - $35
---
On November 14th, Zeshan Muhammedi, CEO & Gurdane Bhutani, Managing Partner, of the FundRx team will be in attendance to give an overview presentation about their company's key areas of interest and to meet 1-on-1 with companies that have been accepted after applying online.
FundRx is a New York based venture capital firm that invests in high impact healthcare and life science startups.

FundRx believes deeply in supporting entrepreneurs, and has a community of over 2,000 physicians, scientists, and industry advisors who are available to support, mentor, and co-invest into its portfolio companies. Importantly, FundRx offers flexible, founder-friendly capital and rarely takes board seats -- we believe in letting great entrepreneurs run their own companies and in making sure we're only providing the support you want. Learn more at FundRx.com.
Within healthcare, FundRx is sector agnostic and looks at opportunities across the following industries:
Biotechnology
Pharmaceuticals
Medical Devices
Diagnostics
Healthcare IT
Healthcare Services

Following the presentation, don't miss the opportunity to introduce yourself to the team during the networking lunch. And finally, for those companies who apply online and are approved, one-on-one meetings with FundRx will provide an intimate forum to discuss your company

Agenda:
10:30am | Registration Opens and Networking
11:00am | Presentation and Q&A
11:45am | Networking Lunch
1:00-5:00pm | One-on-one Meetings*

*Companies must have applied for a one-on-one meeting ahead of time and be approved. The application period ends on October 24th. Pre-registration to attend the presentation, Q&A, and lunch will remain open until noon on November 13th (or sold out). 

FundRx Participating Representatives:
Gundane Bhutani | Managing Partner, FundRx

Gurdane is a founder of FundRx and serves as its Managing Partner. Prior ro FundRx, Gurdane worked in the New York office of Bain & Company as a consultant to clients across the financial services, private equity, and technology sectors. Previously, Gurdane worked in the Public Fiance Investment Banking group at Morgan Stanley. He was also on the team that launched StartUp Health, a leading accelerator for Digital Health startups.
Gurdance holds a dual-degree in Computer Science and Public Policy from Duke University, where he was an Angier B Duke Scholar. He also pursued study at Oxford as a recipient of the Lord Rothermere Scholarship.
Zeshan Muhammedi | Chief Executive Officer, FundRx

Zeshan is a founder of FundRx and serves as its Chief Executive Officer. Zeshan is a serial entrepreneur, having previously held senior management positions at four startup ventures. Most recently, Zeshan led business development efforts for AVARX, a healthcare M&A database and technology platform built by Torreya Partners, a leading boutique healthcare inevstment bank.
Prior to AVARX, Zeshan was Managing Partner at Tensile Co, a global venture development firm. Zeshan holds a BS degree from Emory University.
Fees:
Presentation & Lunch
$25 | General Public
$35 | Onsite
Includes presentation, Q&A, and lunch. All attendees must pay this fee, regardless of one-on-one meeting status. Pre-registration to attend the presentation, Q&A, and lunch will remain open until noon on November 13th (or sold out).

One-on-One Meeting
FREE | Application
FREE | Accepted Companies
Companies must have applied for a one-on-one meeting ahead of time. The one-on-one application period ends on October 24th. Your application will be reviewed and you will be notified of acceptance by email. Acceptance of one-on-one meetings is not guaranteed as all applications must be approved.

About the Meet with... Series:
The purpose of the Meet with Series events sponsored by JLABS is to help start-up entrepreneurs, as well as the academic community, connect with potential partners, such as big pharma or other investment corporations, through one-on-one meetings. It is also a chance for the featured corporation to outline their specific business development goals and clarify what types of products or research they are interested in and how best to approach them to get the partnering process started. Past participants include the Wellcome Trust, Bill & Melinda Gates Foundation, MedImmune Ventures, NCI, Mercury Fund, DARPA's Biological Technologies Office, Correlation Ventures, Breakout Labs, New Enterprise Associates, Canaan Partners, Thomas McNerney & Partners, NCATS, NINDS, Johnson & Johnson Innovation, Poliwogg, California Institute for Regenerative Medicine, Astellas Venture Management, and OrbiMed.

Location:
JLABS @ TMC
John P. McGovern Campus
2450 Holcombe Blvd, Suite J
Houston, TX 77021

Parking Information:
Please park in the self parking areas of the McGovern Campus. Grab a Token at the gate and bring it to the event space. We encourage carpooling and using the TMC shuttles.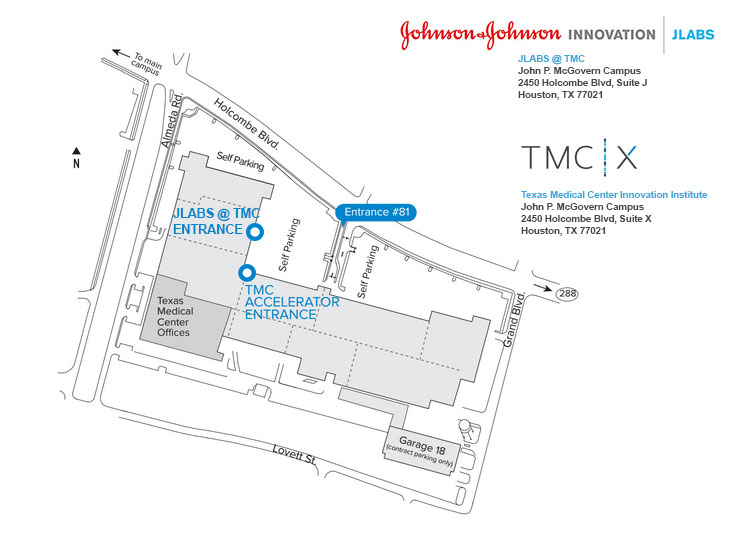 ---
JLABS @ TMC
Johnson & Johnson Innovation, JLABS (JLABS) is a global network of open innovation ecosystems, enabling and empowering innovators to create and accelerate the delivery of life-saving, life-enhancing health and wellness solutions to patients around the world. JLABS achieves this by providing the optimal environment for emerging companies to catalyze growth and optimize their research and development by opening them to vital industry connections, delivering entrepreneurial programs and providing a capital-efficient, flexible platform where they can transform the scientific discoveries of today into the breakthrough healthcare solutions of tomorrow. At JLABS we value great ideas and are passionate about removing obstacles to success to help innovators unleash the potential of their early scientific discoveries. JLABS is a no-strings-attached model, which means entrepreneurs are free to develop their science while holding on to their intellectual property. JLABS is open to entrepreneurs across a broad healthcare spectrum including pharmaceutical, medical device, consumer and digital health sectors. The JLABS flagship opened in 2012 in San Diego at Janssen's West Coast Research Center, and since then has grown to eight locations including the Bay Area, Boston & Lowell, MA, Houston, Toronto and a ninth location, New York City, launching in 2018. For more information please visit jlabs.jnjinnovation.com.
Event contact
---