Meet with…S3 Ventures
JLABS @ TMC , John P. McGovern Campus , Houston , TX 77021
January 18, 2018 from 11:30 AM to 14:00 PM (CST)
$10 - $35
---
On January 18th, Brian Smith, Managing Director at S3 Ventures, will be onsite to give an overview presentation about their company's key areas of interest and to meet one-on-one with cpmanies that have been accepted after applying online.
S3 Ventures is an early, expansion and growth stage venture firm with $400M under management. We are focused on information technology solutions that solve large business problems. We also invest in medical devices that improve the human condition. S3 invests in category defining opportunities. We partner with the team and help focus methodically on what it takes to build a successful company.
At S3 today, we help talented entrepreneurs take their technology and market knowledge and form valuable businesses in a repeatable fashion. Investment sizes start at several million or more for Series A, B & C financing.
S3's portfolio: Acessa Health, Alkami Technology, Briggo, Datical, Favor, Iconixx, Invodo, Kimbia, OrthoAccel, OutboundEngine, Packet Design, Phunware, Pivot3, Qualia, Tango Health, TVA Medical, Upskill and VUV Analytics. S3 invests primarily around the Southwest with a focus on Texas. Visit our portfolio»

Following the presentation, don't miss the opportunity to introduce yourself to the team during the networking lunch. And finally, for those companies who apply online and are approved, one-on-one meetings with S3 Ventures will provide an intimate forum to discuss your company

Agenda:
10:30am | Registration Opens and Networking
11:00am | Presentation and Q&A
11:45am | Networking Lunch
1:00-5:00pm | One-on-one Meetings*

*Companies must have applied for a one-on-one meeting ahead of time and be approved. The application period ends on January 2nd. Pre-registration to attend the presentation, Q&A, and lunch will remain open until noon on January 17th (or sold out). 

Sante Ventures Participating Representatives:
Brian R. Smith | Managing Director, S3 Ventures
Brian found and serves as the managing director of S3 Ventures, a venture capital firm with $400M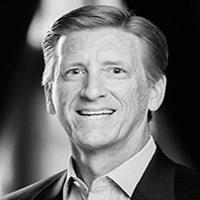 under management. S3 invests primarily in Texas and the southwest in Series A, B and C opportunities, and restructurings and smaller buyouts.  At age 29, he founded and served as chairman and CEO of Crossroads Systems (Nasdaq: CRDS). He led Crossroads through five rounds of venture, strategic and mezzanine financing and to a successful IPO in 1999. Brian ran Crossroads as a public company for nearly four years. In this role, Brian was an early pioneer in Storage Area Networks ("SANs"), which are industry standard solutions today. For his efforts, he was awarded the prestigious Ernst & Young Entrepreneur of the Year Award in 2000. He spent the first seven years of his career in electrical engineering positions holding product development roles within the Technology Group of the IBM Corporation.
Brian earned a BSEE with honors from the University of Cincinnati and an MSEE from Purdue University. He served on the board of Conformative Systems (acquired by Intel), Chicory Systems (acquired by CEVA), Crossroads Systems (Nasdaq: CRDS), Gravitant (acquired by IBM), LibreDigital (acquired by RRD), Phurnace (acquired by BMC Software), Sipera System (acquired by Avaya, Inc,) and StoredIQ (acquired by IBM). He currently serves on the boards of Acessa Health, Alkami, Briggo, Datical, Favor, Invodo, Kimbia, OrthoAccel, Packet Design, Pivot3, Qualia, Tango Health, TVA Medical and VUV Analytics.
 Fees:
Presentation & Lunch
$25 | General Public
$35 | Onsite
Includes presentation, Q&A, and lunch. All attendees must pay this fee, regardless of one-on-one meeting status. Pre-registration to attend the presentation, Q&A, and lunch will remain open until noon on January 17th (or sold out).

One-on-One Meeting
FREE | Application
FREE | Accepted Companies
Companies must have applied for a one-on-one meeting ahead of time. The one-on-one application period ends on January 2nd. Your application will be reviewed and you will be notified of acceptance by email. Acceptance of one-on-one meetings is not guaranteed as all applications must be approved.

About the Meet with... Series:
The purpose of the Meet with Series events sponsored by JLABS is to help start-up entrepreneurs, as well as the academic community, connect with potential partners, such as big pharma or other investment corporations, through one-on-one meetings. It is also a chance for the featured corporation to outline their specific business development goals and clarify what types of products or research they are interested in and how best to approach them to get the partnering process started. Past participants include the Wellcome Trust, Bill & Melinda Gates Foundation, MedImmune Ventures, NCI, Mercury Fund, DARPA's Biological Technologies Office, Correlation Ventures, Breakout Labs, New Enterprise Associates, Canaan Partners, Thomas McNerney & Partners, NCATS, NINDS, Johnson & Johnson Innovation, Poliwogg, California Institute for Regenerative Medicine, Astellas Venture Management, and OrbiMed.

Location:
JLABS @ TMC
John P. McGovern Campus
2450 Holcombe Blvd, Suite J
Houston, TX 77021

Parking Information:
Please park in the self parking areas of the McGovern Campus. Grab a Token at the gate and bring it to the event space. We encourage carpooling and using the TMC shuttles.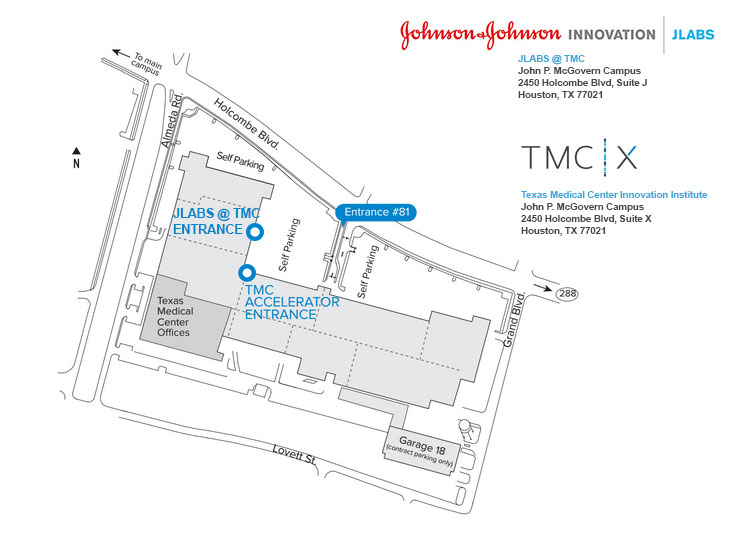 ---
JLABS @ TMC
Johnson & Johnson Innovation, JLABS (JLABS) is a global network of open innovation ecosystems, enabling and empowering innovators to create and accelerate the delivery of life-saving, life-enhancing health and wellness solutions to patients around the world. JLABS achieves this by providing the optimal environment for emerging companies to catalyze growth and optimize their research and development by opening them to vital industry connections, delivering entrepreneurial programs and providing a capital-efficient, flexible platform where they can transform the scientific discoveries of today into the breakthrough healthcare solutions of tomorrow. At JLABS we value great ideas and are passionate about removing obstacles to success to help innovators unleash the potential of their early scientific discoveries. JLABS is a no-strings-attached model, which means entrepreneurs are free to develop their science while holding on to their intellectual property. JLABS is open to entrepreneurs across a broad healthcare spectrum including pharmaceutical, medical device, consumer and digital health sectors. The JLABS flagship opened in 2012 in San Diego at Janssen's West Coast Research Center, and since then has grown to eight locations including the Bay Area, Boston & Lowell, MA, Houston, Toronto and a ninth location, New York City, launching in 2018. For more information please visit jlabs.jnjinnovation.com.
Event contact
---