Research & Development Tax Credit: New Benefits for Startups
JLABS @ TMC , John P. McGovern Campus , Houston , TX 77021
December 06, 2016 from 12:30 PM to 14:00 PM (CST)
$10 - $35
---

The R&D Tax Credit was created by Congress to encourage R&D investment within the United States. For years, only companies with taxable income could benefit. Thanks to the PATH Act, signed Dec 18, 2015, startups can finally benefit from R&D Tax Credits! The PATH Act allows startups to use the R&D Tax Credit to offset payroll taxes for up to 5 years. The PATH Act also made the R&D Tax Credit permanent and allows it to be applied against the Alternative Minimum Tax (AMT).

As a life science entrepreneur, it is in your best interest to seek various funding sources. In this workshop, HIREtech (experts in R&D Tax Credits and small business grants) will overview what qualifies as R&D expenses and discuss how changes to the R&D Tax Credit can provide startups with a non-dilutive source of funding. The workshop also compares and contrasts this source of funding to grants.


Speakers:
Jim Foster | National Tax Director, HIREtech read bio»
Jacob Setterbo | Director of Grants, HIREtech read bio»


Agenda:
11:30 AM | Registration Opens, Networking and Lunch 
12:00 PM | Presentation
12:45 PM | Q&A
1:00 PM | Program Close


About the "How to... Workshop" series:
The "How to... Workshop" series is dedicated to giving you the keys to a successful business, from creation to exit. As with all our events, the "How to... Workshop" is interactive and informal so bring your questions with you!


Fees:
$35 | General Public
$20 | Student/Academic
$45 | At the door 

Speakers' Biographies:


Jim Foster, J.D. | National Tax Director, HIREtech
Jim Foster is the National Tax Director at HIREtech, headquartered in Houston, Texas. Jim currently specializes in the R&D tax credit, the IC-DISC export incentive, and the Section 199 Domestic Production Activities Deduction. Jim has been practicing in the general area of taxation and tax law for nearly a decade. In that time, he has become one of the leading producers of successful R&D tax credit cases for his corporate clients. Further, he has a proved record of successful tax cases that range from IRS audits and appeals to various state-level tax audits and appeals. Prior to HIREtech and after obtaining his J.D., Jim worked for a national tax consulting firm where he specialized in the R&D tax credit and the IC-DISC export incentive. While in law school, Jim worked at a public accounting office where he helped the firm advance in and maintain a double-digit growth. Jim received his B.S. in Political Science from Texas A&M University and his J.D. from South Texas College of Law. He is a licensed attorney in the state of Texas.
Connect with Jim:  

Jacob Setterbo, Ph.D. | Director of Grants, HIREtech
Dr. Jacob Setterbo is Director of Grants at HIREtech, where he helps life science companies obtain non-dilutive funding. Jacob focuses on small business grants (SBIR/STTRs) from the National Institutes of Health (NIH). He has provided consultation and technical writing for various therapeutic areas across the spectrum of NIH's interests, including pharmaceuticals, medical devices, digital health, and health care delivery. Jacob assists with experimental design and commercialization components of each project. Jacob regularly vets early-stage companies with respect to innovation and commercial potential to determine their applicability for grants. Jacob also assists with R&D Tax Credits at HIREtech. Jacob regularly provides guidance to startups as an advisor for the Texas Medical Center Accelerator (TMCx) in Houston. Jacob also served as a reviewer for the Texas Emerging Technology Fund and as a due diligence team member for the Houston Angel Network. Jacob received his Ph.D. in Biomedical Engineering from University of California, Davis and his B.S. in Civil Engineering from The University of Texas at Austin.
Connect with Jacob:  





Location:
JLABS @ TMC
John P. McGovern Campus
2450 Holcombe Blvd, Suite J
Houston, TX 77021


Parking Information:
Please park in the self parking areas of the McGovern Campus. Grab a Token at the gate and bring it to the event space. We encourage carpooling and using the TMC shuttles.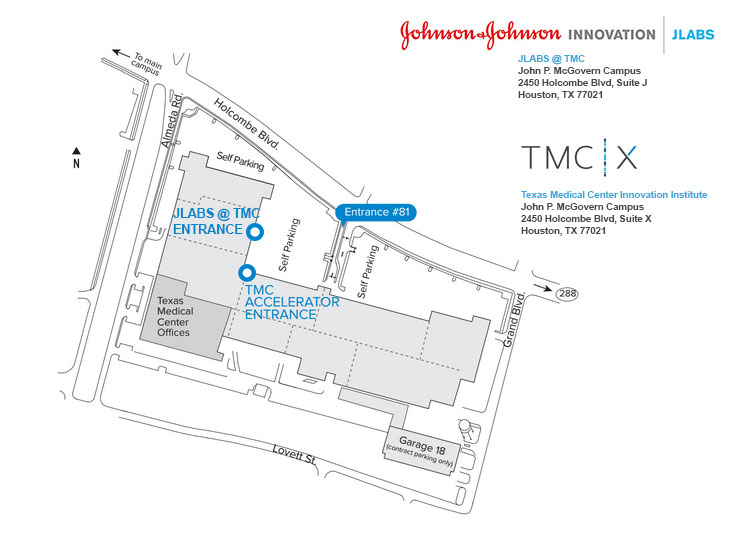 ---
JLABS @ TMC
Johnson & Johnson Innovation, JLABS (JLABS) is a global network of open innovation ecosystems, enabling and empowering innovators to create and accelerate the delivery of life-saving, life-enhancing health and wellness solutions to patients around the world. JLABS achieves this by providing the optimal environment for emerging companies to catalyze growth and optimize their research and development by opening them to vital industry connections, delivering entrepreneurial programs and providing a capital-efficient, flexible platform where they can transform the scientific discoveries of today into the breakthrough healthcare solutions of tomorrow. At JLABS we value great ideas and are passionate about removing obstacles to success to help innovators unleash the potential of their early scientific discoveries. JLABS is a no-strings-attached model, which means entrepreneurs are free to develop their science while holding on to their intellectual property. JLABS is open to entrepreneurs across a broad healthcare spectrum including pharmaceutical, medical device, consumer and digital health sectors. The JLABS flagship opened in 2012 in San Diego at Janssen's West Coast Research Center, and since then has grown to eight locations including the Bay Area, Boston & Lowell, MA, Houston, Toronto and a ninth location, New York City, launching in 2018. For more information please visit jlabs.jnjinnovation.com.
Event contact
---