Sell Your Science - Best Practices for Developing an Effective Non-Confidential Pitch Deck
Add this event to your calendar:
20/04/2016 13:30
20/04/2016 15:00
America/Chicago
Sell Your Science - Best Practices for Developing an Effective Non-Confidential Pitch Deck
JLABS @ TMC , John P. McGovern Campus , Houston , TX 77021
JLABS @ TMC
false
DD/MM/YYYY
Sell Your Science - Best Practices for Developing an Effective Non-Confidential Pitch Deck
JLABS @ TMC , John P. McGovern Campus , Houston , TX 77021
April 20, 2016 from 13:30 PM to 15:00 PM (CST)
$10 - $35
---

It can be tricky to communicate the full potential of your discoveries without spilling the secret sauce. Join us every month for a session on learning the tricks of the trade in preparing a non-confidential deck and executive summary. Experts of the craft will share practical tips on becoming more effective in communicating your story to Angel investors and VCs, increasing your chances of successful fundraising.


Speaker:

Jun Lu | Vice President and Managing Partner, Vesalius Ventures
Mr. Jun Lu currently serves as the Vice President and Managing Partner of Vesalius Ventures, a Houston based venture capital accelerator focusing on early stage companies in telemedicine, mHealth, and other medical technology in the US and China. His investment and incubating projects include, a leading cardiac monitoring service provider in China, Tianjin Guangyi Medtech, JSA Health Telepsychiatry, LifeBot, SALUS, etc. He also served several US medical technology companies as an advisor, to help them expand business in China. Mr. Lu is also working with the American Telemedicine Association and the Tianjin Municipal Government and the Tianjin Binhai High-tech Industrial Development Zone, to develop the first China International Exhibition of telemedicine technology.
Mr. Lu also leads the development of VesaliuX, a cross-border healthcare business accelerator focusing on developing market entry and investment opportunities in China for U.S. healthcare technology companies. The company is also in the process of raising a seed-fund to invest in early stage companies. Prior to Vesalius, Mr. Lu Jun worked as a senior business analyst at a Healthcare IT company in Houston. He also served as an intern security analyst at BOCI-Prudential Asset Management Company, a Hong Kong base firm and as a sales engineer at Focus Technology in China.
Mr. Lu received his Master of Business Administration (MBA) degree from Rice University and also earned a Master of Science in Biomedical Science (MS) from the University of Texas M.D. Anderson Cancer Center. He completed his undergraduate study at Nanjing University in China.


Agenda:
11:30 AM | Registration, Networking and Lunch*
12:00 PM | Presentation
12:45 PM | Q&A
1:00 PM | Program Close

*Light food & beverage provided


Who should attend:
This workshop is ideal for inventors in academic centers and hospitals, and early stage healthcare start-ups in the pharma, medical device, consumer health and digital innovation areas.


Fees:
There is no cost to attend this workshop, but pre-registration is required.


Location:
JLABS @ TMC
John P. McGovern Campus
2450 Holcombe Blvd, Suite J
Houston, TX 77021


Parking Information:
Please park in the self parking areas of the McGovern Campus. Grab a Token at the gate and bring it to the event space. We encourage carpooling and using the TMC shuttles.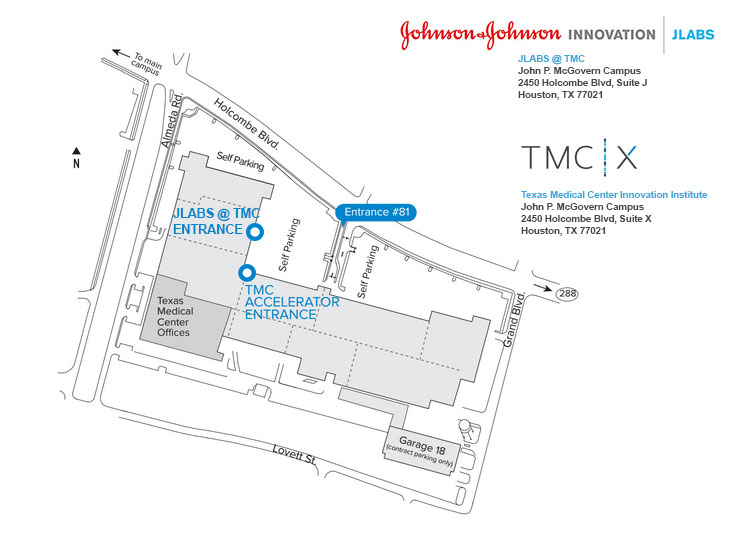 ---
JLABS @ TMC
Johnson & Johnson Innovation, JLABS (JLABS) is a global network of open innovation ecosystems, enabling and empowering innovators to create and accelerate the delivery of life-saving, life-enhancing health and wellness solutions to patients around the world. JLABS achieves this by providing the optimal environment for emerging companies to catalyze growth and optimize their research and development by opening them to vital industry connections, delivering entrepreneurial programs and providing a capital-efficient, flexible platform where they can transform the scientific discoveries of today into the breakthrough healthcare solutions of tomorrow. At JLABS we value great ideas and are passionate about removing obstacles to success to help innovators unleash the potential of their early scientific discoveries. JLABS is a no-strings-attached model, which means entrepreneurs are free to develop their science while holding on to their intellectual property. JLABS is open to entrepreneurs across a broad healthcare spectrum including pharmaceutical, medical device, consumer and digital health sectors. The JLABS flagship opened in 2012 in San Diego at Janssen's West Coast Research Center, and since then has grown to eight locations including the Bay Area, Boston & Lowell, MA, Houston, Toronto and a ninth location, New York City, launching in 2018. For more information please visit jlabs.jnjinnovation.com.
Event contact
---